Me and The Dispensary
In 2009 on a cold grey Sunday in May my friend Bryan and I spent the day exploring Ancoats in east Manchester. It was a pivotal moment for the area; the roads were in the middle of having their cobbles re-laid, public houses which have now been sadly demolished were hanging on for dear life and countless buildings stood empty awaiting their new life. Bryan brought along his 1849 Ordnance Survey Map of Ancoats and I brought along my old Leica camera. You can see the photographs we took here;
Photographing and Exploring Ancoats, May 2009
In the distance aside the newly-completed
Chips
building sat The Ancoats Dispensary. It was a beautifully-detailed building and we assumed it was part of the area's regeneration plan, a classic piece of Manchester Victorian Gothic architecture ripe for renovation. So we walked quickly past it and spent most of our time photographing the derelict warehouses, the empty ex-Local Authority houses and the burnt-out tower blocks, buildings which felt much more endangered than the lovely Victorian Dispensary.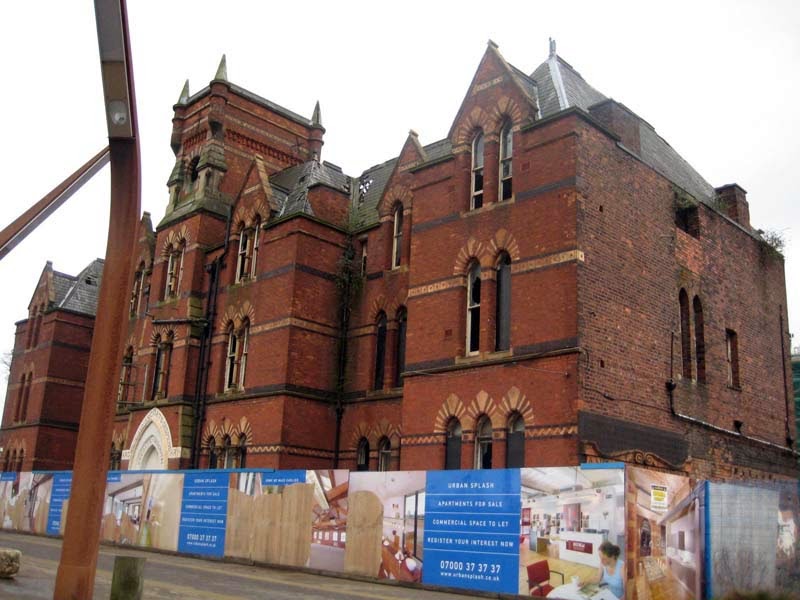 The Ancoats Dispensary, 2009
My next glimpse of The Ancoats Dispensary was a few years later when driving home one early evening. I noticed some hand-written signs on the building and a small wooden-build shack tacked onto the side of the building. Over the next few weeks I'd drive past and beep my horn at the people
holding the vigil
in the make-shift shelter and think how determined and stoic they were to stand in the pouring rain and freezing nights, just to protect an old friend.
At the time I was working nearby, on the top floor of The Express Building on Great Ancoats Street, a building which itself has a long and rich local history. On warm summer days I'd walk along the canal and past The Ancoats Dispensary and wonder what the future held. Would the protesters win or would it be reduced to a pile of rubble like so many others? It was a daily occurrence to walk down a street and notice an empty gap where an old building once sat just days before. Manchester was a city under rapid transformation.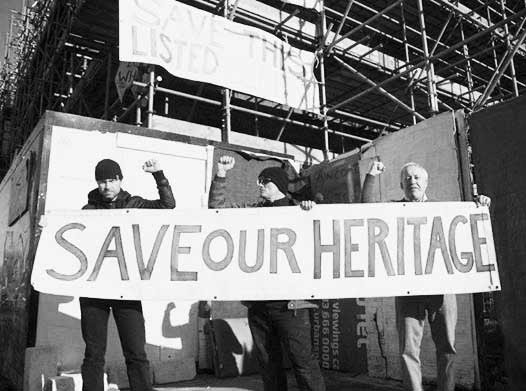 Protesters outside The Ancoats Dispensary
The last time I saw The Ancoats Dispensary was in 2012. I was just about to leave the city and move up to Saddleworth so I took a long walk around Ancoats for a final time. The tracks were being laid on the new Metrolink line and two new apartment blocks had risen from the ground, Islington Wharf and Milliners Wharf. Having studied Architecture back in the 1980s I've always been a fan of contemporary design and I was excited by some of the more adventurous new work being produced across Ancoats. I'd lived across the other side of the city-centre in the early 1990s and remembered vividly how Castlefield had been scarred by bland and safe residential architecture, so the new work in Ancoats had given me great hope for the area.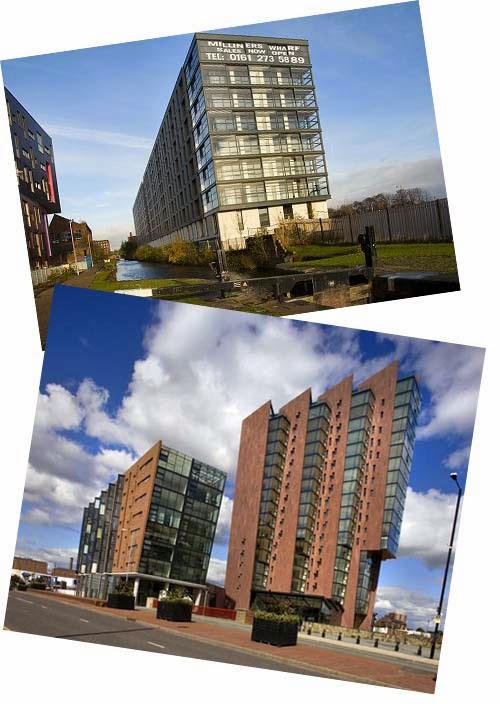 Milliners & Islington Wharf
Contemporary architecture is at its best when it sits alongside historical buildings. I'm not a stickler for context, I'm happy to see a vivid coloured building like Will Alsop's CHIPS adjacent to a Victorian red-brick monolith building like The Ancoats Dispensary. It doesn't feel uncomfortable for me. What does feel uncomfortable is the pointless destruction of such a wonderful historic building when so many other fine local buildings have been destroyed.
Surely preserving The Ancoats Dispensary would help give its new neighbours come context? Some history to relate to, some architecture to respond to?
Two years later I was working at my studio in Woodend Mill when I received a message on
Twitter
from the team behind
Save Ancoats Dispensary
asking me to support the project. I instantly remembered me and Bryan's 2009 tour of Ancoats, the protesting signs and the vigil group huddled in the rain. Instantly I wanted to help.
A few weeks later I met Linda Carver from
Save Ancoats Dispensary
for a cup of tea. She talked passionately about the project and we discussed ideas for fund-raising and how I could help. I'm not an Ancoats lad so holding a vigil in front of a building I know little about would have made me feel like a phoney, but what I could do was create an artwork for the team to auction and put the proceeds towards their campaign.

Talking to Ancoats Dispensary on Twitter
It's a humbling moment when you're asked to help with a cause that has been delivered by people with such determination and passion. People who are prepared to hold 24-hour vigils in the cold, people who give up their time and their money, all to help a local cause that means the world to thousands of their neighbours. Creating a piece of art feels like a drop in the ocean to what others have given to the cause, but I still felt the need and desire to get involved. I went away over Christmas to think about what I'd create, then went back into my studio in the first week of January and began work.
Creating the artwork
In my current London exhibition
20:20Richmond
I concentrate on re-inventing the landscape; changing aspects of landmark buildings and re-working them to give them a fresh perspective. So when I started thinking about how I would represent The Ancoats Dispensary it seemed only natural to adopt a similar theme; to re-invent the historic hospital building and give it new life. But a niggling doubt kept on telling me to keep the building looking as it does already; years of neglect and the threat of bulldozers have already taken their toll on The Dispensary, so the last thing I wanted to do was to change it any further.
So I decided to draw a clear representation of what the building is. Not how it used to be, or how it will be in the future, but a simple symmetrical view of the front of the building. No fuss, no extra detail, just let the Victorian splendour and intricate detail speak for itself.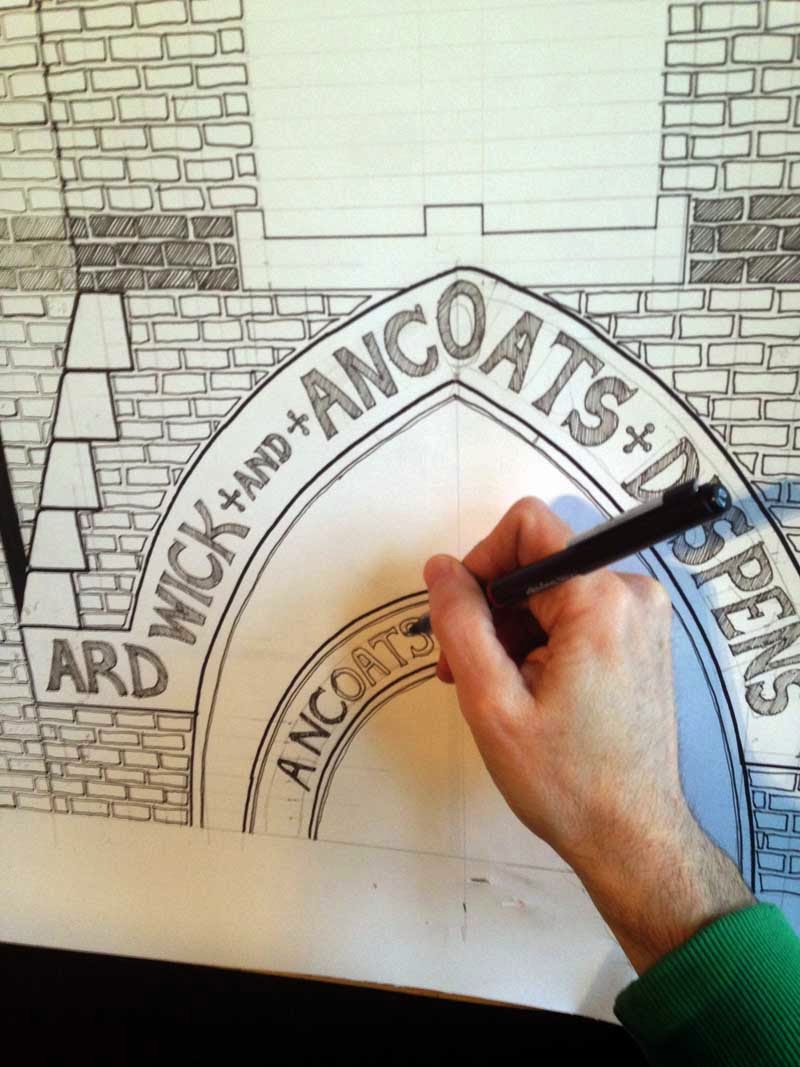 Drawing those Gothic letters in detail
The first thing I noticed was how wonderfully symmetrical the building is. The Georgians and Victorians felt symmetry was as important as classical detail and scale so The Ancoats Dispensary has an admirable presence as it sits imposingly on Mill Street. The only architectural detail that kicks against the symmetry is an iron rainwater pipe, laying at 45-degrees across the entrance and slicing the building in half. Ironically for a building so rich in architectural detailing and intricate stonework, it's this innocuous rainwater pipe that stands out more than anything else.
Once I'd decided on my symmetrical composition the most challenging work was drawing each brick by hand. And there are bloody thousands of them. To stop me going mad I listened to a song that has a repetitive beat I could draw each brick to. The song, an old favourite of mine, was
"O Superman!" by Laurie Anderson.
and although it annoyed my neighbouring artists, two days later the bricks were finished.
One of the most unique features of The Ancoats Dispensary is the unusual lettering above the entrance. The four words "ARDWICK AND ANCOATS DISPENSARY" don't curve naturally across an arch, they start horizontally then curve upwards back down and return to a horizontal line, breaking the words in random places. The more I studied the lettering the more unusual it seemed. The Victorians were sticklers for detail so I was surprised to see this grand lettering carved in such a mish-mash fashion. The typeface is also a rather odd choice too; a hybrid of classic-Serif and high-Gothic with a couple of religious-style ampersands for good measure. Maybe there was an anarchic typographer working in the office of the architect at the time?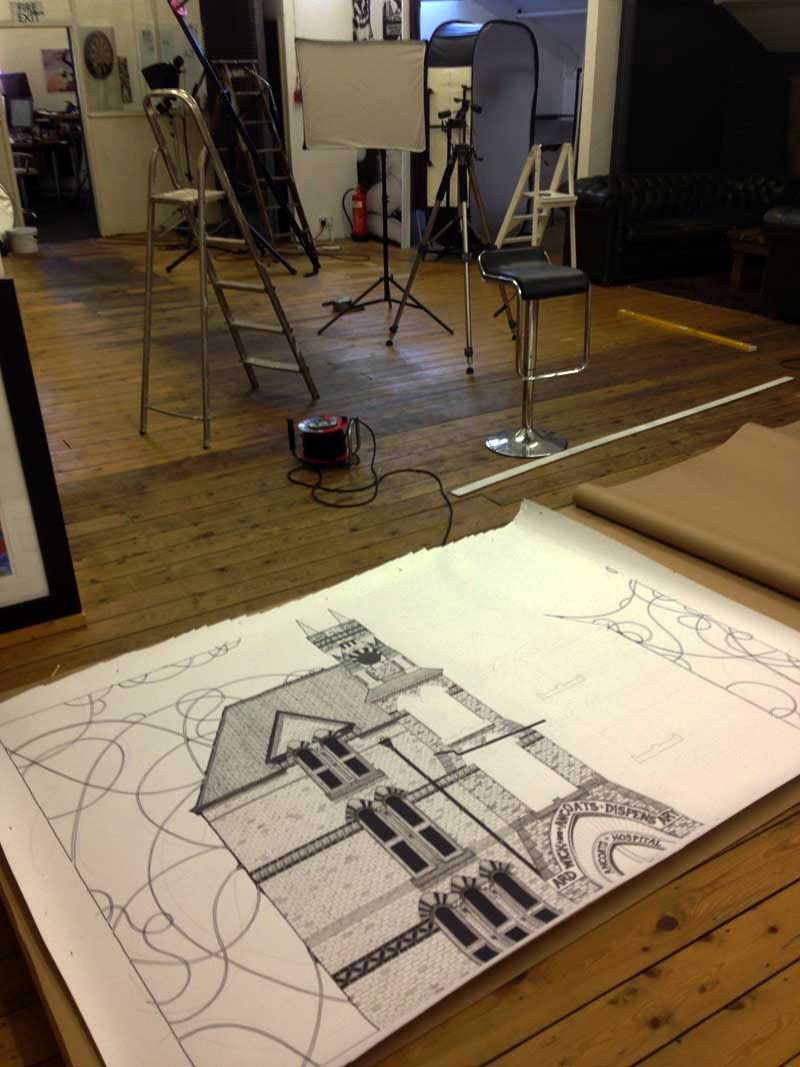 Half-finished, time for a cup of tea!
Once I had finished drawing the building on a large scale (my drawings are normally over 6-feet wide) it was time to transport the artwork to my photographer's studio in the centre of Manchester. DK runs a great photography/printing studio behind Oxford Road Station called
Sketch360
. Here DK photographs my artwork full-size (the files are VERY big!) before sending me a high-resolution digital file for me to start the next stage of the creative process.
With the basic black and white digital file I can begin creating the artwork that I'm going to donate to Linda Carver and the group. I decide to create two designs; the first will be a large full-colour piece which we'll auction off for charity, and the second will be a limited edition run of 10 prints featuring a single block colour.
The main one-off piece begins with me hand-colouring on Photoshop each and every brick. I didn't feel able to listen to Laurie Anderson again, so instead I listen to
Cerys Matthews on 6Music.
The next day I took a site visit back to Ancoats to photograph the brickwork but it was hard to see colouring details through the scaffolding and the plastic netting, so I trawled through old Flickr photographs for reference. I discovered that despite appearing to be just a single coloured red-clay brick, the building in fact is made up of multiple colours ranging from salmon pink to a pale cobalt blue. I incorporate all these colours into the main one-off piece.
A couple of days later I begin the second design, a work that will have 10 x limited edition prints for sale at the fund-raising night on 28th February. I choose five colours for the backgrounds and name each colour after a street in Ancoats. So we have 'Radium Red', 'Oldham Ochre', 'Vesta Violet', 'Cotton Carrot' and 'Bengal Blue'.
When I'd finished the large main piece for auction, I sent it back to DK at Sketch360 and he printed the one-off piece onto Giclee paper, a special format which preserves colour, looks like matt paint and will last for hundreds of years.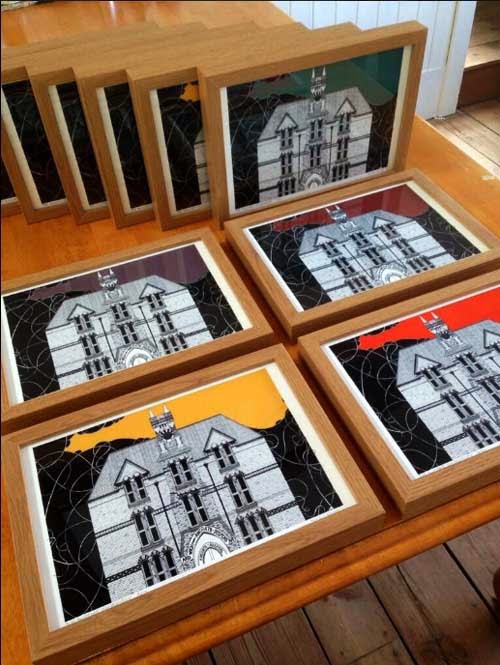 Then I collect the one-off print, take it to my framers,
Art Imaging
, in Trafford and Alistair frames it in a nice solid oak frame, complete with museum glass. When I come back to collect it a few days it's wrapped tightly in bubble-wrap and I can't see what it looks like. I'll have to wait until I get it home to have a proper look.
Save Ancoats Dispensary
"Sharing The Vision"
28th February, 2014
The night has arrived and I'm looking forward to taking my artwork down to Halle St. Peters in Ancoats. The team behind the campaign have been working really hard to host this important night where they'll give supporters an up-to-date report on how the campaign is going and what it means to everyone.
There are some important speakers; firstly Linda Carver gives everyone a background story of why the group was started and what it means to her, followed by impassioned and constructive speeches from Patron
June Rosen
on working at the hospital and architect
Angela Brady
on the importance of history and legacy. Manchester's only senior choir, Golden Voices, sing a lovely set of songs and there is further music at the interval from graduates of the Northern College of Music.
I walk over to the stand where they're selling my 10 limited edition prints and watch them sell in just a couple of minutes. We've made £500 and the auction hasn't even started yet!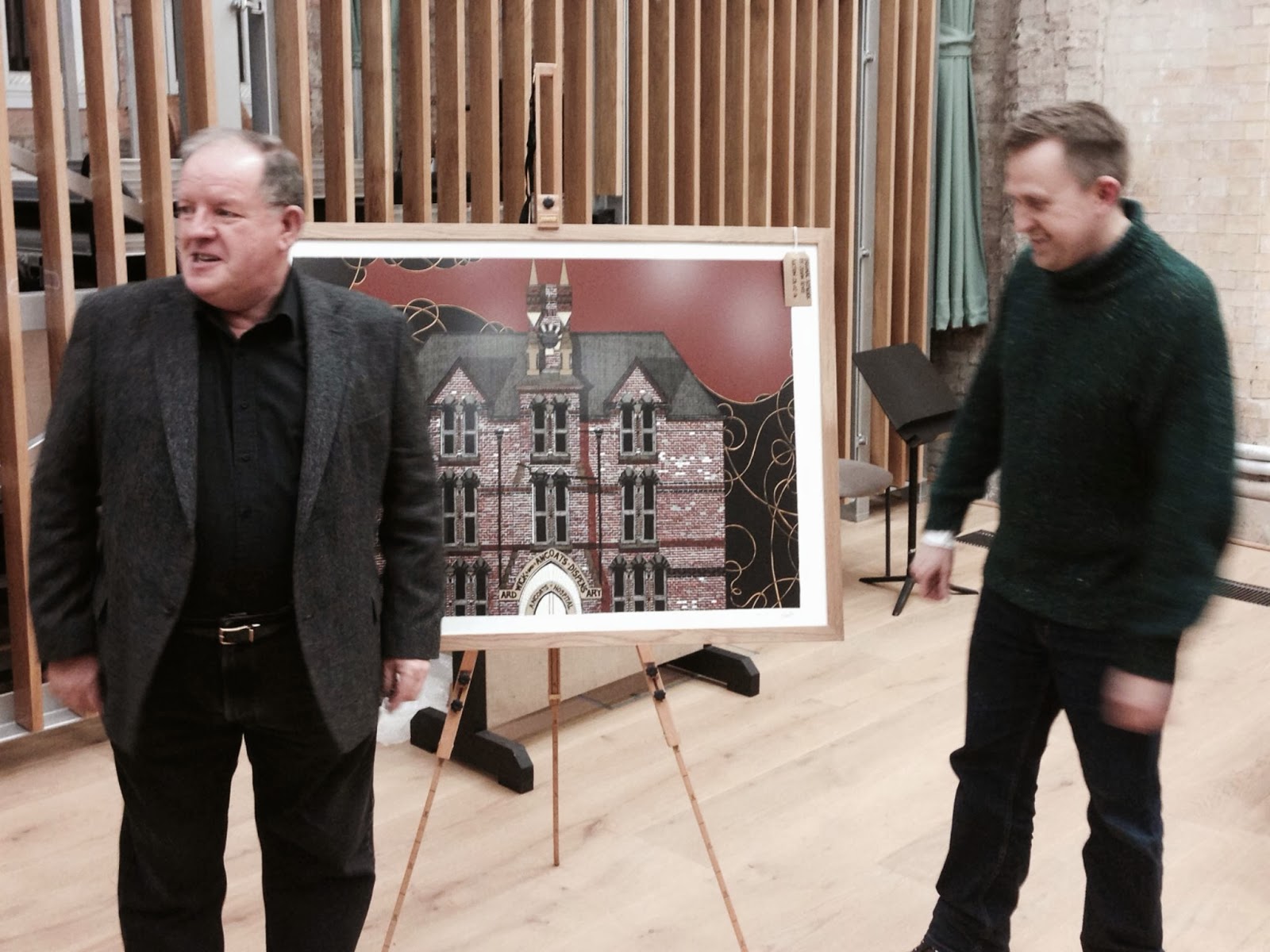 Me and John getting ready to auction the artwork
The String Quartet finish their rendition of Handel, people finish off the tasty food and sugary cupcakes and it's time for patron and actor
John Henshaw
to auction the one-off piece I've created especially for the event.
It's a tense moment for everyone; me because like any artist I'm never sure how my work will be received, and for everyone else because they don't know if they're going to bid, such is the spirit of being in a live auction room!
John springs into action and he turns out to be a brilliant auctioneer, whipping the crowd up and creating lots of tension-relieving jokes. The bidding starts at £20 but soon goes to £100, then £200 then up to £500. Then it's £600 and still John won't stop - he's Patron of the society and wants to raise the most money he can. Finally the winning bid goes to Phil Walton from
AWOL studios
, a company who will be renting spaces for artists in The Dispensary should funding go through next month. It's great to see the artwork going to someone who appreciates both art and the subject matter, and even better to have raised a total of £1,200 for
Save Ancoats Dispensary
.
But for me the most poignant moment of the night was when a group of young children from Ancoats performed historic, political and contemporary songs. In front of us, in the middle of Halle St. Peters stood the future of Ancoats; the people who in 50 years time, like their parents before them, will be standing in the rain and fighting for the area's future. Because Save Ancoats Dispensary isn't just about the building, it's about the area, the people and the fight to belong.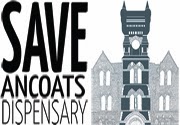 Save Ancoats Dispensary
About the group
Support the group
Get involved