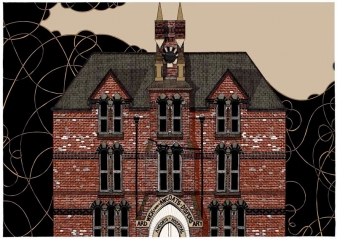 At the 'Sharing the Vision' public event in February 2014, the Ancoats Dispensary Trust were delighted to auction a donated masterpiece by artist Julian Bovis. This one artwork helped to raise an astonishing £800 for the Trust - and ten other specially commission artworks by Julian also helped to raise a further £500!
The insightful blog about his experience of the Ancoats Dispensary and why he became involved with our cause can be read here or by scrolling down, and information regarding the 'Sharing the Vision' event can be read here.
We openly encourage artistic and creative talent within the community, and hope that in the not-too-distant future, the restored Ancoats Dispensary can become a hub of this talent - a place where talent is fostered and nurtured for the benefit of the local area.
___________________________________